A key feature in Transmissioni-drive systems is the Freewheel Chainset: It doesn't push the rider's feet round under power, and avoids injury through feet slipping from the pedals

The crank is unusual as it is threaded onto the chainset using a freewheel. Using the 44T chainring, or a 4-arm or 5-arm spider a chainset is built up with sufficient space to accomodate 2 chains
| | | |
| --- | --- | --- |
| | The standard 3-ring (44T+44T+22T) chainset available from Cyclone may work with larger-wheeled bikes, but a larger chainring (~52T) is usually needed for folders. With electric asssist even a 54T or larger ring may be suitable. | |
This motor cradle is designed to suit a range of frames and is slotted to allow exact alignment of the cog and chainset. Hidden is the chain exit slot (look at the bottom view of the cradle below). The side is bolted on so that a chain can be installed with a breaker. 3 motor positions are provided - 2 axle slots, and the sides can be exchanged for the 3rd position.

A chain tensioner (not shown) also has 3 positions. 2 frame clamps (with plastic grommet and tube to prevent paint damage and provide grip) hold the cradle to the bicycle frame.

In some cases a torque arm is required from the motor to the frame to prevent rotation of the cradle under peak torque.
To sling the motor behind the seat-tube needs a different approach: here 2 'U' bolts sleeved with clear polythene tube hold the cradle to the rear fork.

The motor is held higher on a small wheel bike: the motor supports are lower for full-size wheel bikes.
The hub motors used in a pronto system have an internal freewheel. so no freewheel is required between the cog and motor. A standard freewheel on a rear-wheel motor cannot be used anyway, because it would unscrew!

A 'cog adapter' is machined to fit the screws on the offside of the motor. It converts the motor to present a 6-screw disc brake mounting onto which a range of 'fixie' cogs can be fitted.
The cog mounting plate is drilled with 'disc brake' hole centres with 6mm stand-offs to mount a fixie cog. Cogs are available from 15T to 22T to suit a range of gearings.

The motor fixings depend on the choice of motor - the nano has 6 x 4mm screws, others have 3 or 4.
Views of the motor and cradle fitted to the frame tubes.

A typical rear fork has a centre-hole where the brake is fixed and 2 narrow tubes that converge on the seatpost. Sleeved 'U' bolts hold the cradle to the frame, and side-pieces form the slot into which the motor fits. The force vector tries to bend the sides of the cradle and these are made of heavier guage steel and cross-braced.

The height above the rear fork should be minimised, but the riders ankle must not interfer with the motor axle.
Several of my recent projects feature the Rixen & Kaul Klickfix™ luggage system that attaches a range of bags to bicycles. The system uses a standard mounting for handlebars and also for Dahon bicycles that have hub gears - that are fitted with a braze-on lug on the headtube. The mount is tastefully called a luggage 'truss'.

The system I designed for the Brompton luggage proved very popular and so I have designd a similar adaptation to the Klickfix™ to connect the power from a battery inside the bag to the motor controller. I call it 'PowerLock'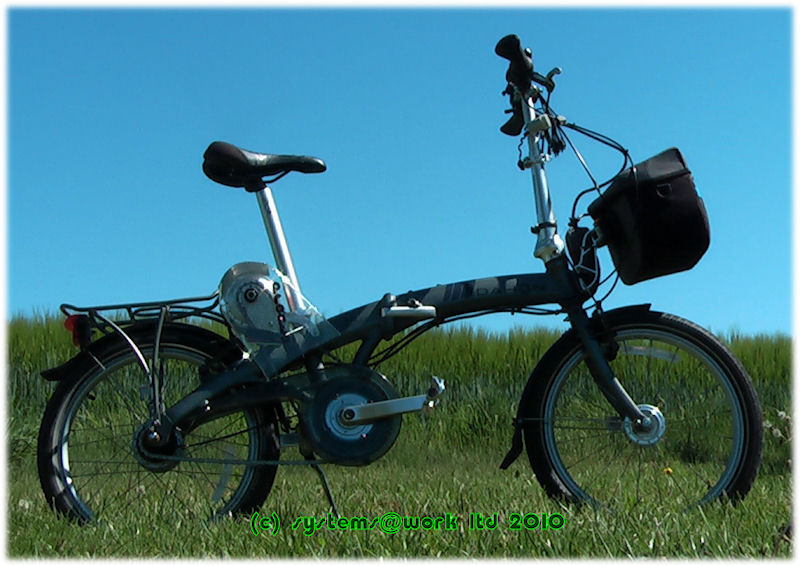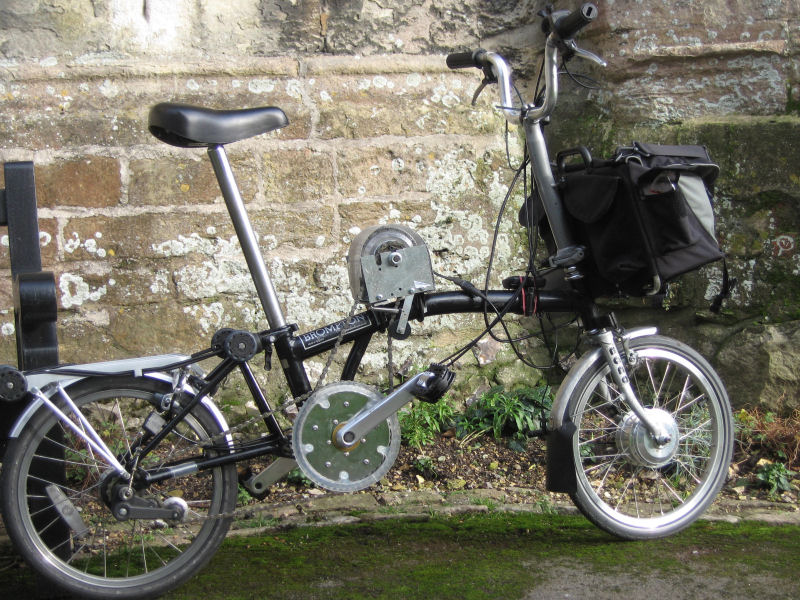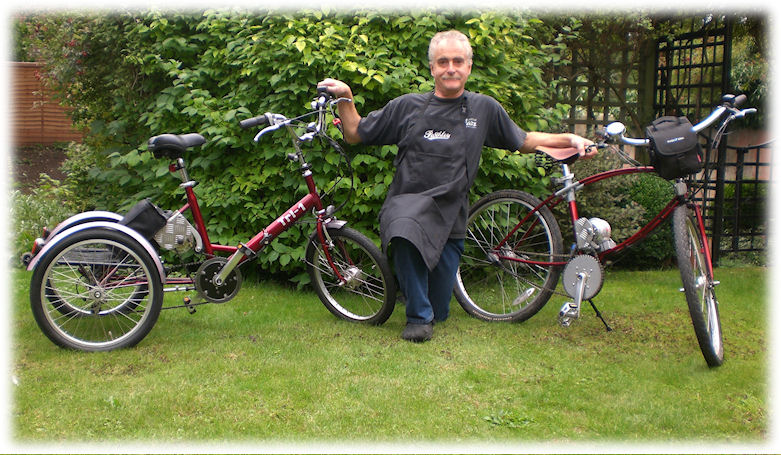 My Pashley 'babies' ........
Stunning hill-climbing - 14% with no pedalling - with stability and load-carrying. Even with a legal motor this trike climbs steeper slopes than a 500 Watt Cyclone. After several minutes climb the motor was only warm: letting the motor run faster than the equivalent wheel-speed makes it more efficient and effective. The motor cog here is 17T driving a 44T chainring. The second chainring is 32T - a very low ratio.

Actions speak louder etc. See it in operation on Youtube